NOMINATIONS HAVE CLOSED, TICKETS NOW ON SALE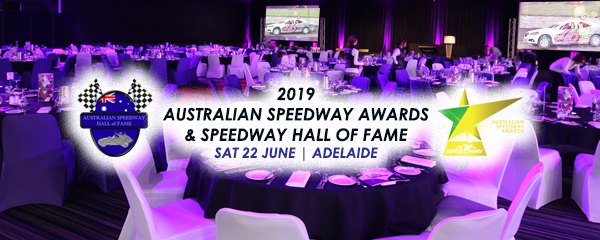 Nominations have now closed for the 2019 Australian Speedway Awards, with 490 entries received across the 13 categories.
It is extremely heartening to see the huge amount of support both for the awards process and for the people and communities who are doing their best for the sport all around the country. Only 17 of the 490 applications will be successful, with whoever ends up winning the respective categories being thoroughly deserving of their accolades. For example, some of these awards will be extremely closely contested with a huge volume of worthy nominees:-
Track of the Year – 34 nominations
Most Improved Track of the Year – 48 nominations Official/Volunteer of the Year – 76 nominations
The quantity and depth of the information we've received about the amazing work going on in the sport around the country is truly humbling, and a lot of it deserves to be widely distributed.
We'll work on how we go about doing that between now and the awards but suffice to say it makes you extremely proud to be part of this great sport!
Tickets are now on sale for the awards night at the Adelaide Convention Centre, at the same price they've been since the inception of the ceremony in 2016. Dinner and four hours of refreshments are included at $150 per person or $1300 for a table of 10.
If you wish to attend the Awards night, Tickets can be purchased by clicking the following link: www.speedwayawards.org/Forms/Awards_Tickets.aspx.
Posted: 13/05/2019